Embroidery: Stories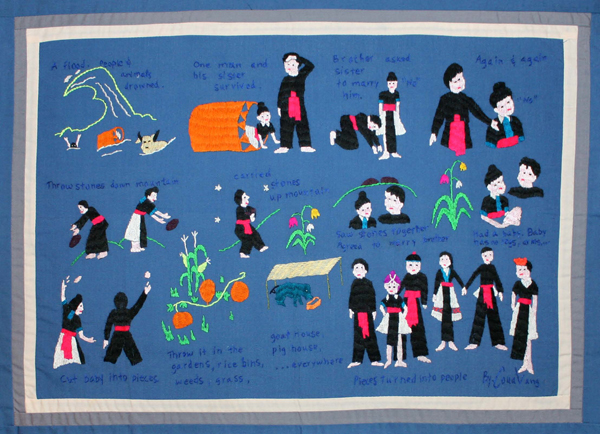 ES1: This paj ntaub story cloth depicts the Hmong creation story, also available as a published ESL book. A long time ago, a brother and sister survived a great flood. His name was Nruag Nas (Brother Na), and hers Nkauj Mim (Sister Mee). They were carried on the water in a big drum for many days until the water drained away. When they got out, all beings and animals were dead. They walked, searching for people, but could not find anyone. As they grew older, Brother Na thought that in order for there to be people, he ought to marry his sister. She refused because he was her own blood and flesh. He insisted again and again, so they called upon Yawm Saub (God) for advice. He appeared and told the brother to carry a male millstone and the sister to carry a female millstone to the top of the mountain. He instructed them to roll the millstones down the hill, and if the two landed on top of each other it must be fate.
By Coua Vang, 1980s, 46x59 cm
Photo by Noah Vang, item at the Hmong Archives

Back to Top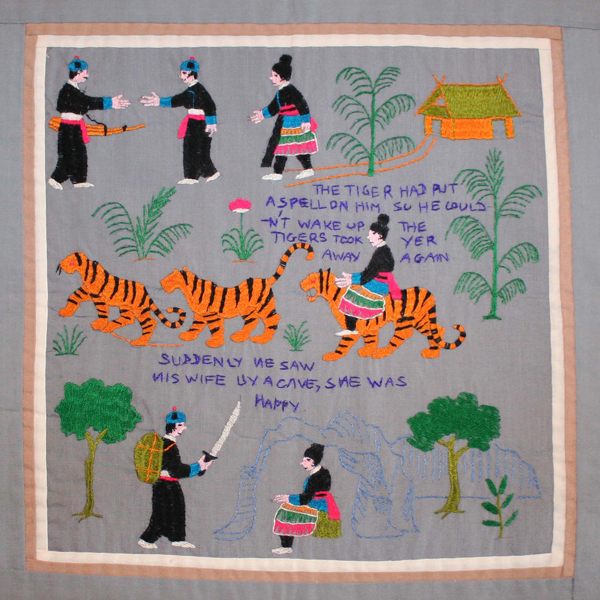 ES2: This popular Hmong folktale paj ntaub, called Nuj Nplaib thiab Ntxawm (pronounced Nou Nplai and Yer) has also appeared in book form and in Hmong movies. The story begins in a different paj ntaub with Nou Nplai accompanying his wife Yer half way through the forest to her parents' village and Yer being taken away by the tigers. Here we see the second half of the story where Nou Nplai discovers that Yer never came to her parents' village. Her parents accuse Nou Nplai of murdering Yer. In scene two, the tiger has fallen for Yer's beauty, so he protects her and prevents her from returning home. In the last scene, Nou Nplai follows the tiger footprints, and finds and kills the tigers, as he rescues Yer. This piece was made with cotton thread on cotton cloth using surface stitching techniques. White and tan fabrics form the borders.
By Shong Thor, 1980s, 38x38 cm
Photo by Noah Vang, item at the Hmong Archives
Back to Top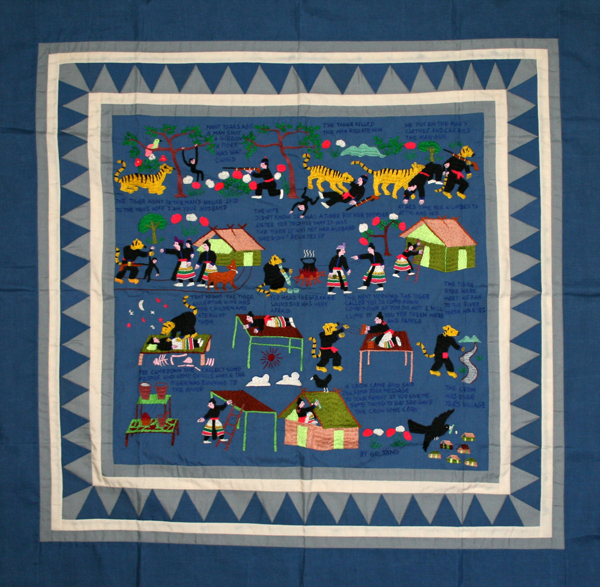 ES3: This folktale tapestry was illustrated by Ge Yang, then embroidered with straight, darning, and outline stitches, and appliqué mountain motif frames. It depicts the story of Yer and her
brother-in-law's family, which has also been published in a storybook format as Yer and the Tiger. A family lived far away from the village, secluded in the woods. Yer, the younger sister, went to live with her older sister, brother-in-law Lau Lua, and nephew. She helped tend the farm and look after her nephew. One day Lau Lua went hunting and shot a gibbon that fell to the ground. A watching tiger attacked him, ate his flesh, and put on his clothes. Disguised thus, the tiger carried the gibbon and gun home. However, at the house, Yer noticed that her brother-in-law now acted, walked, ate his food, and talked differently. Yer informed her older sister, but she didn't listen to Yer. Yer was scared, so she slept up in the loft. That night she heard bones crunching and knew that the tiger was eating her sister and nephew. In the morning, the tiger told Yer to climb down, but she refused. She tossed crushed peppers into its eyes. The peppers burned, so the tiger went to the river to wash its eyes. Yer told a bird to send a message to her family to come rescue her.
By Ge Yang, 2011, 89x78 cm
Photo by Xai S. Lor, item at the Hmong Archives

Back to Top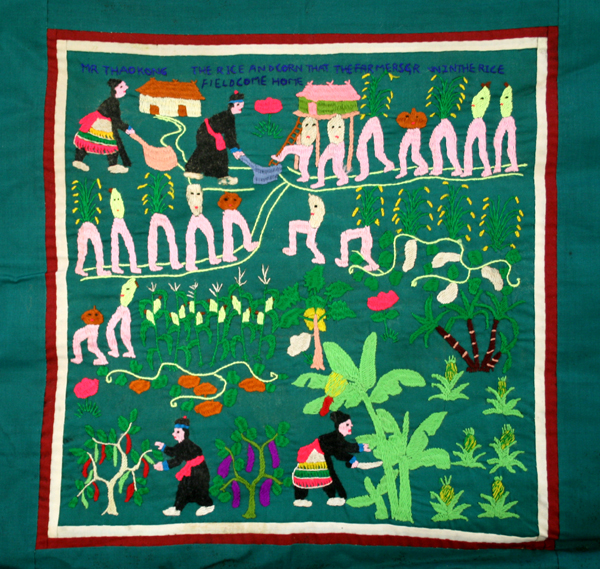 ES4:The scene depicted in this paj ntaub is a short Hmong folk story. It explains why farmers have to carry their crops home. A long time ago, when grain and produce was ripe, it walked from the fields to the farmer's home on its own. However, because the farmer didn't properly tend his crops and had no place to store them, the ripe grain and produce no longer wanted to walk to his home, and since then farmers have had to carry the crops home. This folktale has also been published as an English as Second Language booklet.

By an unknown artist
Photo by Xai S. Lor, item at the Hmong Cultural Center
Back to Top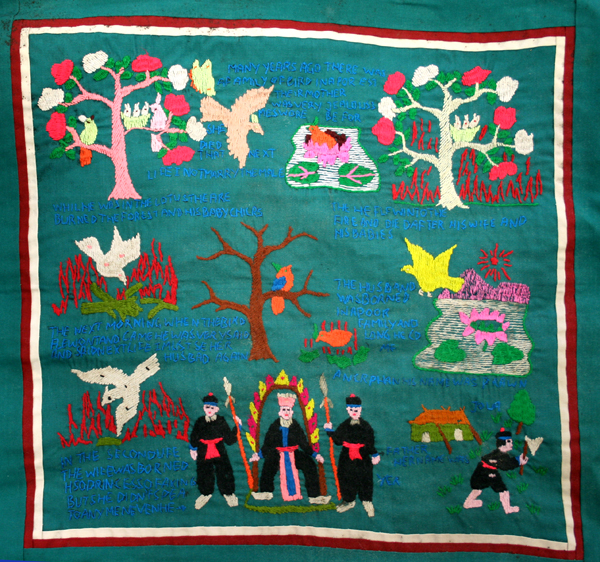 ES5: The folk story depicted in this story cloth is of Lao origin. It is about a pair of birds with nestlings in a forest who must fetch insects to feed their young. One day, the male bird went in search of insects before dusk, flew over a pond, and into a lotus to catch insects. Before he realized it, the lotus closed, and he was unable to get out. Meanwhile, the forest burned in a wildfire, killing the female and nestlings.The next morning, the lotus opened again, and the male bird escaped to find his mate and nestlings burned in the fire. He was sad, and angry with himself, and, wanting to be with his family in the next life, flew into the fire and killed himself. On bottom right we see a reincarnation with the male bird reborn as a man who must work endlessly, twice as hard as in his previous life. The woman in the center is his wife, who now doesn't have to work, but rests like a queen.

By an unknown artist
Photo by Xai S. Lor, item at the Hmong Cultural Center
Back to Top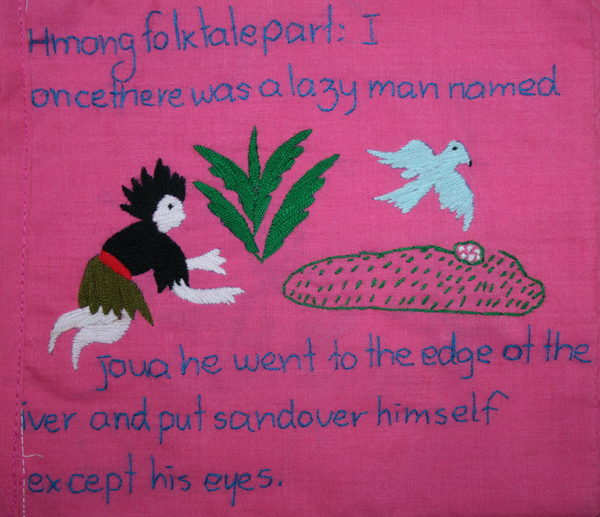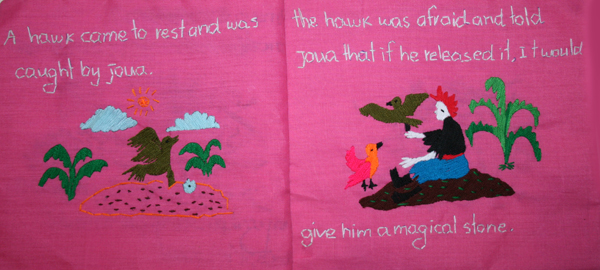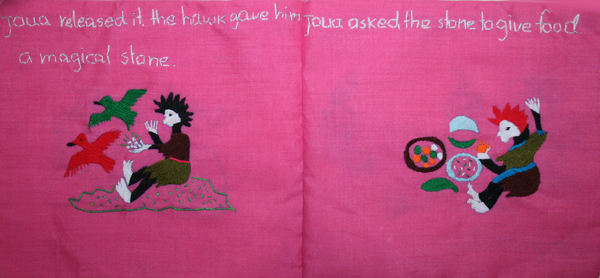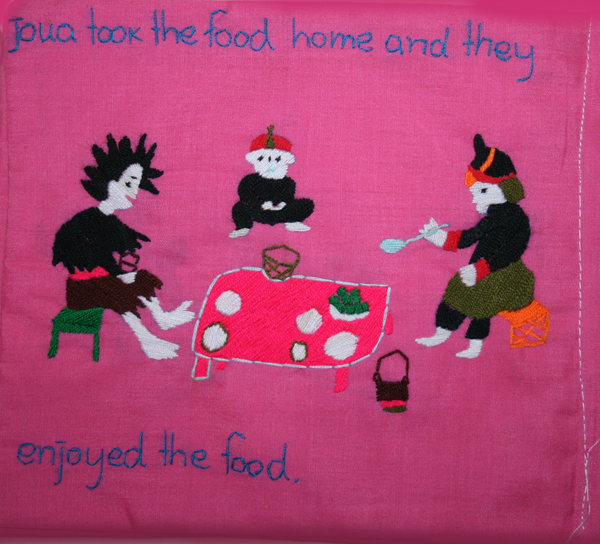 ES6: This new approach in making paj ntaub is a Hmong embroidered storybook in six pages, purchased at the Night Market in
Luang Prabang, Laos. It is part one of a
popular Hmong folk story about an orphan named Yob Nraug Ntsuag, or Yao the Orphan. However, in this telling, Yao now becomes Joua, the English phonetic spelling for ntsuag, which means orphan. Also, the traditional eagle becomes a hawk in this version. Joua is a lazy man who doesn't want to work. One day while at the river, he covered himself in sand, except for his eyes. A hawk flew over and saw his eyes, thinking they were some type of amulet. The hawk dived down to grab the eyes with its claws, but Joua caught the hawk's feet. The hawk, pleading to be released, promised Joua a magic stone that would give him whatever he asked for and desired. Joua asked for food, which he brought home and enjoyed. The embroidery was done on cotton cloth with a surface stitching technique. The English text in the book was done in double running stitches, also called Holbein stitches. This tale was also published as an ESL reader by Charles Johnson.
By Ziag Yaj, Laos, 2012, 17x19 cm
Photo by Xai S. Lor, item at the
Hmong Archives

Back to Top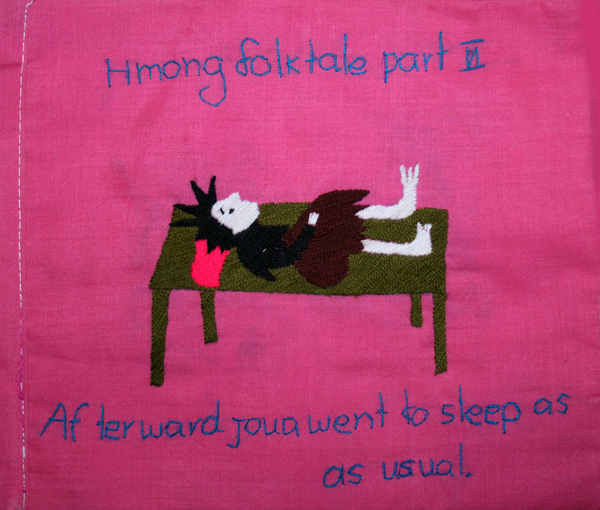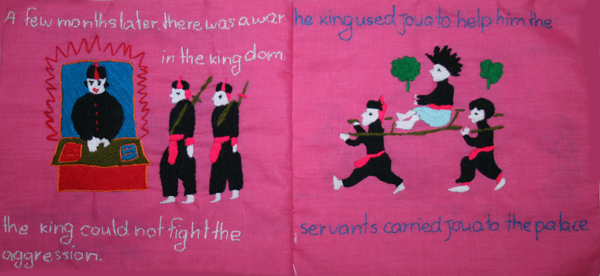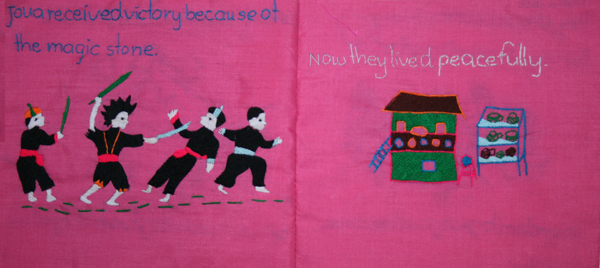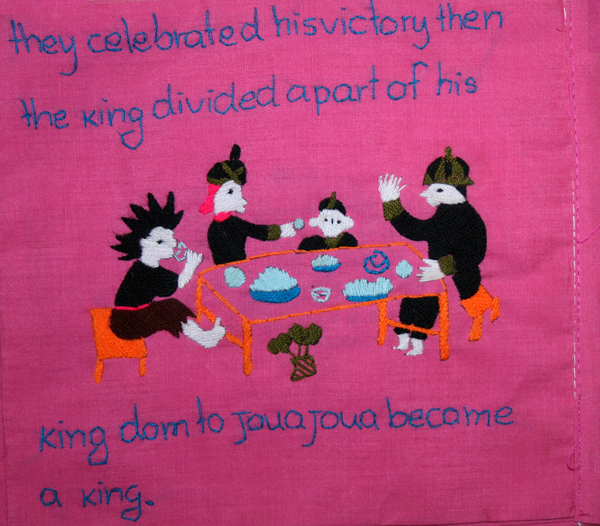 ES7: This is part two of the embroidered storybook, Yob Nraug Ntsuag, which also was purchased at the Night Market in Luang Prabang, Laos. Every day after dining, Joua didn't want to work. All he did was sleep. One day, the king heard about Joua and sent two messengers to ask Joua to fight for his kingdom. Joua was victorious with the help of the magic stone, and the king gave him part of his kingdom. Joua became a king. The embroidery was created using surface stitching on a cotton cloth, with double
running stitches utilized for the English text.
By Ziag Yaj, Laos, 2012, 17x19 cm
Photo by Xai S. Lor, item at the
Hmong Archives
Back to Top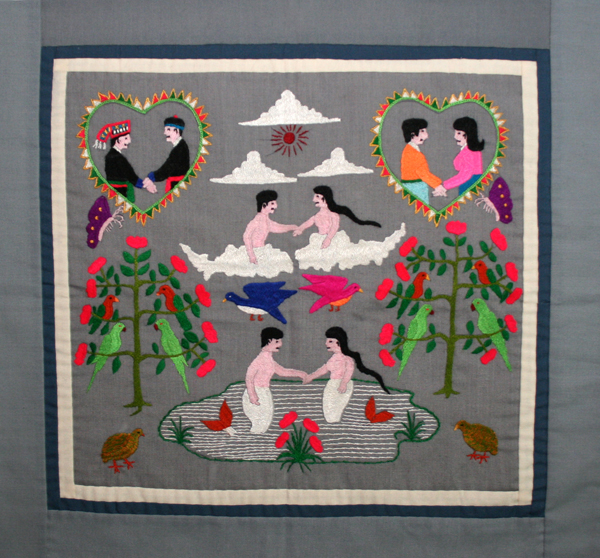 ES8: It is uncertain what the artist was thinking when she made this particular piece. It appears there are three different time periods or realms depicted, with the past featured in the above upper left and the future in the upper right. In between, the displayed scene may involve the spirit world or the magical realm of supernatural beings and mythical creatures such as mermaids. Mermaids are rather rare and not found in older Hmong crafts or folk stories. Reincarnation may also be suggested in the pictured scene. The individuals depicted appear to be the same two individuals in all four scenes. Pairs of birds or butterflies usually symbolize love and the affection of a couple. The methods used to embroider this tapestry included darning, straight, and running stitches.

By an unknown artist, 1980s-1990s, 27x25 cm
Photo by Xai S. Lor, item at the Hmong Archives
Back to Top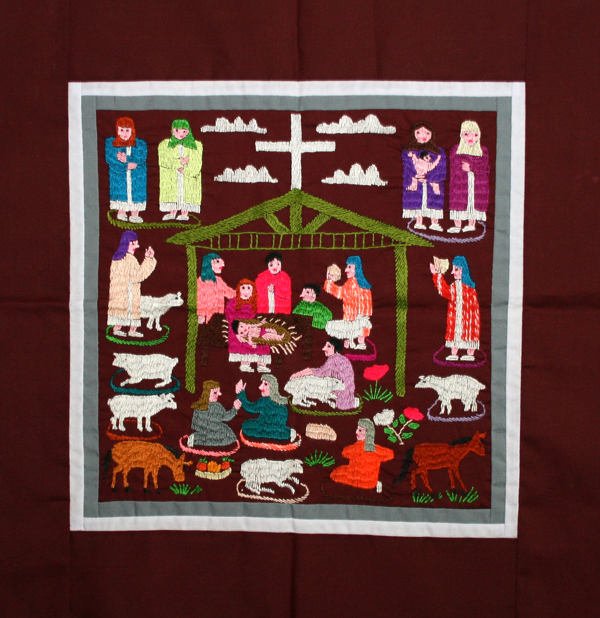 ES9: This tapestry depicts the birth of Jesus Christ. He is shown with Mary, Joseph, and the wise men, along with unidentified individuals. In the Hmong language, Jesus is called Yesxus. Many of the Hmong people didn't learn about the story of Yesxus until they lived in Ban Vinai
Refugee camp in Thailand, or immigrated to the United States with the assistance of their
Christian American sponsors. Those that heard the story of Yesxus were among the first to
convert to Christianity in the first half of the 20th century in Laos. This piece was embroidered with darning stitches on a cotton fabric. The borders were constructed utilizing an appliqué technique.

By Choua Lor, 2008, 42x42 cm
Photo by Xai S. Lor, item at the Hmong Archives
Back to Top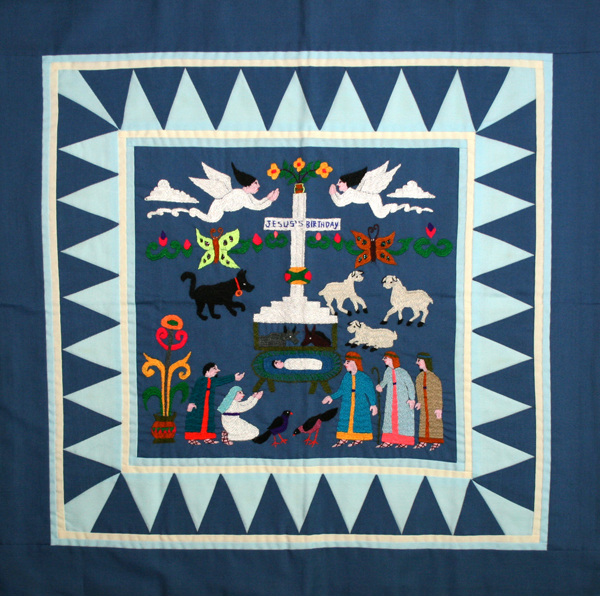 ES10: This tapestry depicts the birth of Jesus. It was made for Western customers and audiences to purchase, but also may be found in Christian Hmong homes. It is a version of the Hmong interpretations of Christianity. About a third of the Hmong population in the United States is Christian. The embroidery was done with darning stitches and sewn onto the surface of the cloth. The mountain motif is done in appliqué and acts as a frame.
By an unknown artist, 1980s-1990s, 45x45 cm
Photo by Xai S. Lor, item at the Hmong Archives
Back to Top
Page 1 >> Page 2